From water, sewer, fire and trauma scene decontamination to asbestos, mold and wind damage, we offer a variety of services when an emergency hits your home. Working in the Calgary area, we're the one to call when you need someone who cares.
Red Dot Restoration is a full service restoration company, proudly serving Calgary and area. Since 2005, we've been offering everything you need to restore your home and recover from emergency services, including floods, sewer backups, fire damage, mold and asbestos removal, wind and hail damage.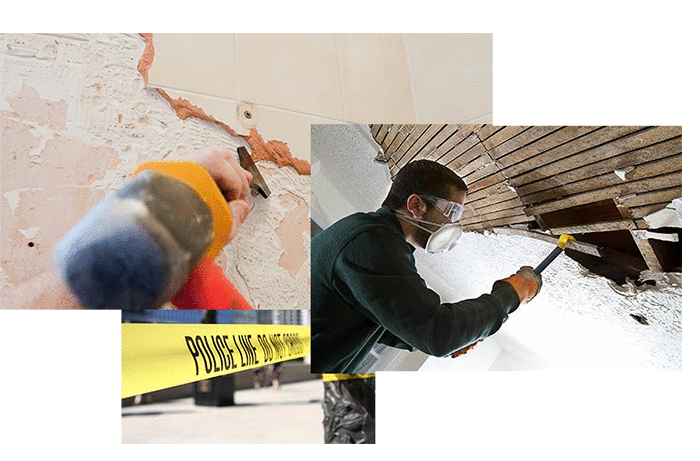 ---
WATER, SEWER, FLOOD
Weather (storm, hail wind)
Bio-hazardous (asbestos abatement, mold remediation, trauma scene)
Insurance
EMERGENCY
Emergency services on-site within two hours
Fully trained and certified staff (consultants available upon request)
Experienced in small and large (multi-unit) losses
MOLD & ASBESTOS
Fully certified mold and asbestos technicians on each job
Pollution insurance
Asbestos testing available
---
Condo Building Services
When your condo development needs cleaning services, count on Red Dot Restoration to get the job done right. We specialize in cleaning the communal areas of condominium developments and don't rely on subcontractors. With a stable workforce, we have the resources, quality service and commitment to keep condos in Calgary clean, and condo owners proud.
Water & Flood Damage
Pin hole leaks in copper pipe or Poly B can quickly turn into major events, even things like malfunctions to a washing machine, dish washer or water feed to a fridge can cause serious problems too, especially if you live on the tenth floor and you're at work or away for the weekend. These events are very stressful and we understand the upheaval you will be facing. We specialize in these types of situations and we'll get you back to normal as soon as possible. Our industry trained technicians will start right away by drying your structures quickly and thoughtfully so that you don't get mold. Then, we'll carry out the repairs to return your property to a pre loss condition and get your home feeling like a home again.
Sewer Backup
Sewer or sink backups are really unpleasant and they also have some significant health risks, so a fast and thorough cleanup is critical. For this reason it is important to have industry trained staff with good experience, who know how to do the job properly with the right products and to ensure there is no cross contamination to other parts of your property. Once the affected areas are sanitized our in-house construction department will get to work returning the affected areas to a pre loss condition. And you can be confident about our work because we do extensive testing afterwards to ensure that your home is healthy once again.
Fire Damage
Fire damage is an extremely emotional experience for anyone who has the misfortune of being affected by it. We understand this and will work with you as you process and work through this challenging time. In addition to the emotional turmoil there is also an inevitable physical upheaval, which is why we stay in close contact with you and guide you through each stage of the process. We will be focusing on the structural impact of the fire on your home, as well as the inevitable smoke and water damage associated with fires. Once your home is stable and thoroughly clean, we will then start working to return your home to a pre loss condition. We know how much your home means to you, and will do everything we can to restore things to the way they were.
Trauma Scene Clean Up
These situations are often tragic and emotionally charged. Our seasoned technicians are familiar with this work, which is typically a balance of being sensitive to people connected to the situation, while at the same time carrying out a very thorough and informed clean up. Our team of professionals are certified in using the correct chemicals, observing universal precautions and neutralizing any odour that may be present. In addition to trauma scene services in Calgary, our technicians are also fully trained in the protocols of biohazard clean up - including guano abatement, animal droppings, rodent carcasses, sewage remediation and odour control. You can be confident that our expertise in biohazard clean up, sanitation and restoration will get the job done right.
Asbestos Abatement
Asbestos is a dangerous carcinogen (cancer causing). This material was used in a number of building products up until 1987. It is now a controlled substance and is heavily regulated with extremely hefty fines for non-compliance, which is why the Occupational Health and Safety department is very involved in ensuring compliance. Due to the very serious consequences to humans when handling building products containing asbestos, the processes for removal is very thorough.
At Red Dot Restoration we have a dedicated crew who safely remove asbestos, while ensuring attention to detail is never compromised. Our remediation technicians follow strict guidelines to ensure that we protect the health & safety of both our staff and your family. Part of the regulations require air quality testing before, during and at the end of the project to ensure everyone's safety (this criteria can vary slightly depending on the level of risk). This testing must be carried out by a third party, which is normally an industrial hygienist referred to as Indoor Air Quality Expert (IAE).
We offer a number of asbestos removal services for the Calgary area, including:
Emergency repair
Asbestos removal and encapsulation
Licensed asbestos waste transportation
Consultation to assist in provincial regulatory compliance
Full adherence to infection control measures for asbestos
We adhere to provincial and federal removal guidelines and procedures when dealing with asbestos. Our professional teams are trained to handle sensitive environments and we can mobilize quickly to start work on your project. We have considerable experience in asbestos abatement, so if you have any specific questions please feel free to talk to one of our Project Managers.
Mold Remediation
Mold spores are all around us all the time, this is quite normal and nothing to be concerned about. In order for mold to grow there are five conditions that must be present consistently, if one or more of these conditions is missing mold will not grow.
Food source – mold likes to feed on cellulose, drywall & timber are excellent sources of cellulose. Mold cannot grow on metal or concrete (no food source).
Temperature – The range of temperatures we humans find comfortable to live in is the same temperatures mold thrives in.
Stagnant air – mold will not grow if there is moving air. The air must be still, stagnant for mold to grow.
Constant source of moisture – there must be constant moisture for mold to grow. If the moisture stops the mold will stop growing and go dormant, however, as soon as moisture is reintroduced to the area mold will start to grow again. When mold is active (growing) is when it smells the strongest, it has a distinctive mushroomy, musty odour.
Time – if all of the conditions above exist, mold starts to become a concern after three days, 72 hours.
There is often a concern about the perils of mold, and rightly so, however, the next few sentences will hopefully shed some light on this topic; there are over a thousand species of mold, although only a handful (five to seven) are considered harmful pathogenic, others may cause flu like symptoms but are not typically permanently harmful.
"The poison is in the dose". What is significant is the amount of mold, a small area the size of a ping pong ball is not considered a serious bio hazard, however, as the mold gets bigger so does the seriousness. It is worth bearing in mind that mold is not always visible. All that being said, we also understand that each person has a different sensitivity to mould, this is also taken into consideration when evaluating a remediation plan.
Mold is not a controlled substance, so the treatment of mold is varied, although there are some very good protocols 'best practices' in place. We adhere to the guidelines developed by The Clean Trust (formerly IICRC) they have a document called S520 that has survived the test of time and is very thorough. This protocol is recognised by insurance companies and property professionals throughout North America.
When remediating mold it is usually necessary to build a negative air containment incorporating a decontamination chamber and a HEPA (highly efficient particulate air arrestor) negative air machine. The technicians will be wearing Tyvek suites, full face gas masks and surgical gloves. Depending on the size and location of the mold it may be necessary to involve an IAE (indoor air quality expert). They will take air quality samples at the beginning and end of the project to ensure the air quality is within acceptable parameters. If you have specific questions around a mold issue , feel free to contact one of our Project Managers who have a wealth of experience in mold remediation.
Hail / Wind
Here in Calgary it is not uncommon for us to experience extreme weather which often results in property damage. When a door way or window needs to be boarded up it is important this is done right and done quickly. We have wealth of experience in dealing with these situations and can offer a 24/7 service and a very quick response time. When it comes to hail damage we have a wealth of experience at our finger tips whether it be a new roof, guttering, siding, Hardie Board, facia, etc.
---